Take better control of your lifestyle
Today you have available the Wellness and Lifestyle DNA Test to answer some of the age old questions about your wellbeing, including your learning patterns, memory performance and much more. The test is available from just R2395 so begin understanding how your genes make you who you are.
The test is so simple – all is done in the ease and comfort of your own home. We send a kit once we have confirmed your order. Inside the kit you will find 2 mouth swabs, a pre-addressed reply envelope for returning your DNA samples to us and instructions.
In order to collect DNA samples, all you have to do is swab the inside of your cheeks with the swabs for 30 seconds; then allow the swabs to air dry for a couple of minutes before you seal them into the envelope provided and send them to us for testing. We do the rest of the work and will send you the results in approximately 6 to 8 weeks.
View a sample result by clicking the below image: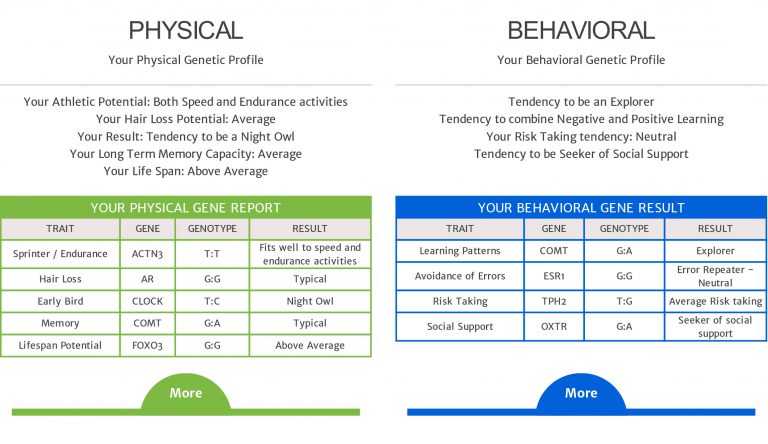 The information provided in your results consists of contemporary scientific studies published and reviewed by the most reliable sources available today. Your results will highlight:
Why Do I Take Risks? – Believe it or not your DNA holds crucial information about mindset and why certain people are bigger risk takers than others.
How Good is my Memory? – Do you want to find out how your recall capacity functions? Your DNA will let you know how you remember things, how well you remember and how quickly you forget.
How Long Will I Live? – Your DNA actually has an approximate "pre-coded lifespan". What measures can you take to improve your longevity?
Why am I Anti-Social? – Some people rely heavily on the support of others when they are down, others prefer to be alone. You will find out how you handle social interactions with the results of this test.
What is My Athletic Ability? – Some people are suited better for sports that call for endurance, while others are better at sports that require short bursts. Your DNA can help you discover what kind of athletics would suit you best.
You have nothing to lose and everything to gain with the results of the Wellness and Lifestyle DNA Test. Discover all of the hidden secrets about your body today!
Special offers
The price for our Wellness and Lifestyle DNA Test is just R2395. We also offer a special discount if you take 2 Wellness and Lifestyle DNA Tests – just R4595 for both.